What is a range hood (also known as a vent hood)? What is its purpose?
A range hood is a kitchen appliance equipped with a mechanical fan, or blower, that extracts steam, smoke, odors, grease, and heat from your kitchen. Also known as an oven hood or exhaust hood, range hoods evacuate air contaminants and heat from your kitchen by capturing them and transporting them to the outside of your home through a duct. There are many different builds and styles of range hoods, each designed for a specific purpose or aesthetic preference. From small, discreet range hoods commonplace in the 1950s to today's increasingly popular chimney range hood, a range hood is essential to maintain your home's air quality and complete your kitchen's look.
Do I need a kitchen hood?
One of the most important appliances in your kitchen, a kitchen range hood ensures that the air quality in your home remains safe and breathable by removing harmful smoke and steam from the air and replenishing your kitchen with fresh air from the outside. Many respiratory health concerns, like asthma or allergies, are alleviated through regular use of a kitchen hood vent. Using a kitchen exhaust fan also prevents oil from settling on the surfaces of your kitchen, thereby protecting your culinary space from accumulating a layer of sticky grease. Using a kitchen exhaust hood also mitigates offending odors during food preparation, relieving concerns about unwanted smells lingering after cooking odoriferous foods like fish or broccoli. Finally, a kitchen fan can help maintain a comfortable temperature in your kitchen by removing excess heat.
How do I identify the best range hoods?
The most reliable and lasting range hoods are Italian made and feature European craftsmanship. These outstanding kitchen range hoods possess quality materials such as high-grade 304 stainless steel and tempered glass, both of which are crafted to endure an extremely high temperature and resist cracks and corrosion. Range hoods made from lower quality steel or those sporting an 'Italian design' are typically less effective and are more vulnerable to defects stemming from heat given off by your cooktop. In addition, Italian range hoods often boast a high CFM, have more durable electrical components, and are more energy-efficient.
An island range hood is a range hood that is mounted to the ceiling and installed above a kitchen island. Also known as a ceiling mount range hood, this style of kitchen hood is comprised of a chimney and an exhaust hood, with air contaminants like smoke, steam, and heat usually venting through the top of the chimney. Below are several different types of island range hoods, each built for unique kitchen layouts or requirements.
A suspended range hood is mounted to the ceiling and hangs like a pendulum over your kitchen island cooktop. Kitchens with island stoves are susceptible to pervasive smoke, steam, and heat, due to the central location of the cooktop. However, a suspended range hood mounted directly above an island stove quickly and efficiently removes these contaminants from the air before they become a problem. Many island hoods can also act as a part of your kitchen's decor, adding a new level of interest or sophistication to your culinary space.
Recessed ceiling hoods are designed to be mounted within the ceiling over your island cooktop, concealing most of the range hood's body and making the base of the kitchen hood flush with the ceiling for a more streamlined, minimalist kitchen design. While this type of island vent hood presents a clean and open looking space, its distance from the cooktop reduces its ability to quickly and efficiently remove contaminants and grease from the air. This can perhaps be remedied by installing a soffit box in your kitchen to decrease the amount of space between your stove and the island hood.
Futuro Futuro offers an exclusive line of suspended range hoods that do not require a duct to ventilate the kitchen area. The Air Loop range of island vent hoods replicates the efficiency and all of the advantages of a ducted range. While a ducted range hood typically supplies the most powerful performance, an Air Loop island hood is a great choice for those living in apartments or those with strict local building codes. To learn more about this type of range hood, see the section about ductless range hoods.
A wall range hood is a kitchen hood that is mounted to the wall directly above a cooktop that is situated against the wall. A popular choice for most kitchen owners, the wall mount vent hood comes in a host of different styles, colors, and sizes. Cozier kitchens can opt for a 24 inch wall mounted range hood or 30 inch wall mount range hood, while average sized to expansive kitchens can accommodate a 36 inch wall mount range hood or even a luxurious 48 inch range hood wall mount. Below are several different types of range hoods designed to meet the needs of various kitchen builds.
A free-standing wall mount range hood is simply a range hood that is mounted to the wall above the cooktop. Typically, free standing wall range hoods have a chimney and is ducted through the ceiling.
A built in range hood is mounted inside existing cabinetry and above the cooktop, concealing much of the range hood's body. This range hoods are typically ducted to the outside, providing fast and efficient ventilation. The built in range hood is a great option for smaller kitchens that need to get creative with available space. Here's more detailed descriptions of your built in range hood options.
Under cabinet range hood
The main advantages of having an under cabinet vent hood are efficient ventilation, space, and a clean looking design. Situated underneath existing cabinetry but above the cooktop, the under cabinet hood is placed at an ideal distance away from the stove to filter out any steam, smoke, and heat coming off of the cooktop during food preparation. Under cabinet range hoods feature a flat shape, fitting perfectly underneath your cabinets and freeing up visible space, giving your kitchen a more expansive look and feel.
Slanted range hood
A slanted range hood is a wall mount range hood with a visually appealing, modern shape. Installed on the wall above the cooktop, this wall mount vent hood features a flat exterior and extends away from the wall at a diagonal angle, taking up less available space in the kitchen and enhancing your kitchen's unique, contemporary style.
Venting types of kitchen exhaust fans?
Ducted range hoods are kitchen hoods that have a vent that leads directly from your kitchen to the outside of your home. Contaminated air is suctioned through the vent in your range hood and quickly transported to the outdoors, while fresh, clean air is pulled in from the outside into your kitchen to replace the contaminated air that has been removed. Ducted range hoods are considered to provide the most efficient and powerful performance. Many kitchens typically already have a duct installed in the ceiling or adjacent to the wall, allowing you to choose from a wide variety of wall and island range hoods, based on the layout and your designer preferences. Additionally, it is possible to install a ducted under cabinet range hood, combining the high performance of a duct with the visually appealing aspects of a built in, concealed range hood.
The terms ductless hood, ventless kitchen hood, and recirculating range hood all describe the same thing: a kitchen range hood that is not ducted to the outside. Instead, a ductless vent hood should contain a carbon or charcoal filter, which has to be purchased separately, and which absorbs and traps air contaminants like smoke, steam and odors rather than transferring them to the outside of your home the way that a duct would. This filter usually has a lifespan of 2-3 months on a daily cooking basis. A ductless range hood with charcoal filter can be designed to meet most kitchen design needs. For instance, a ductless island range hood, ductless wall mount range hood, and ductless range hood under cabinet are all available options at Futuro Futuro, with our best ductless range hood being the Air Loop series with its exclusive Micro Carbon Infusion Filter and whisper-quiet sound absorbing technology.
Choosing your range hood's material and finish
Different materials and finishes provide different styles and performance advantages. See below to choose the finish that would best suit your home.
Made from a variety of materials, a white vent hood provides a clean and open feel to your kitchen. Whether you're searching for a white island range hood, a white range hood wall mount, or a white under cabinet range hood, Futuro Futuro offers a wide selection designed to accommodate any kitchen. Futuro Futuro white kitchen hood models are built from tempered, colored glass or high quality steel that has been coated with a white paint through a unique electrolysis method, offering a matte finish and enhanced durability to the range hood. Futuro Futuro also offers a line of white wood range hood models that feature painted steel and wood trim. This wood vent hood series echos traditional designs found in early New England homes, where wood hood was distinctly popular and indicated affluence.
Black range hoods are very similar to white range hoods in that they are available in many styles, including suspended and wall range hood models. Black range hoods are built from tempered, colored glass and high quality steel that has been coated with a black paint, offering a matte finish and lending the range hood enhanced durability.
Futuro Futuro stainless steel hood units are built from highest grade, 304 stainless steel that is designed to withstand high temperatures and resist corrosion. Stainless steel range hoods present a lustrous, polished finish, are easy to clean, and often pair exceptionally well with other stainless steel appliances already present in the kitchen.
Glass range hoods are comprised from tempered glass that is designed to withstand high temperatures. Many glass hood vent units feature colored or frosted glass designs that create interest and possess a glossy finish.
Wood range hoods offer an elegant and natural exterior, and typically include a steel interior that provides a powerful and enduring performance. Stately and natural, wood range hoods would best suit traditional style kitchens.
Copper range hoods, while rare, provide a lustrous finish and rich color to your kitchen. Futuro Futuro currently offers a couple copper hood models made from high quality steel and painted to mimic copper, thereby providing all the benefits of stainless steel but replicating copper's beautiful color.
Like copper vent hood models, true brass range hoods are very rare. Futuro Futuro currently offers one range hood model made from high quality steel and painted to look like brass, thereby providing all the benefits of stainless steel but replicating a trendy brass color.
Gold range hoods are also difficult to find. If a polished, gold color is the look you're trying to achieve, many range hood designers often bring their range hood that they'd like painted another color to their local auto body shops where the kitchen appliance can be painted similarly to the body of a car.
You may also consider wrapping your range hood in a shrink film, which withstands high temperatures and is another technique used to change the color of cars.
What are the most popular range hood body types?
Reverse "T" shape
The most popular style of range hood, the reverse T shape is a classic style that looks great either suspended at the center of your kitchen or mounted to the wall. With a clean and simple design, this kitchen range hood complements many different decorative kitchen styles.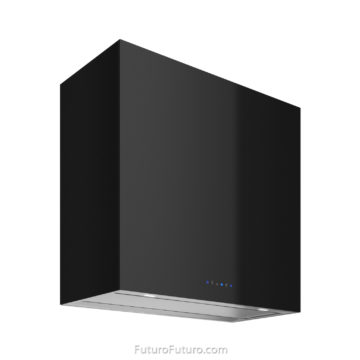 "Box" type
Box range hoods are shaped like rectangular boxes that are mounted to the ceiling and offer a starkly modern design. Typically built from stainless steel or tempered glass, this range hood is a hit with kitchen owners who possess a penchant for minimalist or industrial styles.
"Tubular" shape
Suspended range hoods built to resemble tubes boast a modern, contemporary style and come in a variety of colors and designs. These range hoods are often paired together to create balance and symmetry in the kitchen.
Canopy range hoods are built from various materials, such as 304 stainless steel and colored glass, and can be mounted over an island range or to a wall. Canopy hood vent series offer direct ventilation during food preparation and dually serve as an interesting accent piece.
Designer range hoods
Futuro Futuro offers many designer range hoods that feature exclusive ornamentation. Built from stainless steel or tempered glass, these luxury range hoods create a sophisticated atmosphere and offer top of the line features that are easy to use and help to keep your kitchen clean.
Questions? Call (800) 230-3565 (USA Toll-Free) or (718) 236-1570 (outside USA) for assistance